Question: How can I turn $1,000 into a steady monthly income?
To repeat what others have said, there are a variety of ways to produce steady income. Whether or not they exceed your expectations/threshold is a whole other question.
For example, place $1000 into a high-interest savings account such as Ally at 1% interest would yield just over $10 of cumulative interest. See below: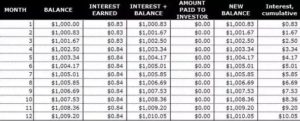 $10 of savings interest is still better than $0.
Hope this helps. Good luck!