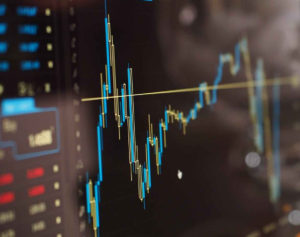 Life is 10% what happens to you and 90% how you react to it. – Charles R. Swindoll
For many of us, life is filled with challenges, consequences and at times, amazing experiences with fulfillment. However, most of the time we focus on just the negative side of things, completely foregoing what lies ahead – our future. Trust me, I do the same.
Why life is like the stock market
Ah, the stock market. For many, the stock market is a place where we can invest our earnings in the hopes it grows overtime, leading to our eventual retirement sipping margaritas by the beach.
Unfortunately, like many, the stock market is a place that can cause panic and fear. Markets up 5%…great! One day later…markets are down 5%. Panic!
Although it's frightening and nerve-wracking as it happens, the reality is this. It is normal. The markets, by its nature, will move up and down throughout the course of days and weeks. However, thankfully over the long-term, the markets eventually trend higher. And if it doesn't, well then, it's time to invest my money elsewhere :).
But just like the stock market, where stock movements can swing rapidly and unexpectedly, life behaves the exact same way. One day, you're working a dream job earning $100k; the next, you've been called into the office by your boss to be notified you've been let go. And this is after 10 years of service, too!
Was that the plan? Was it your plan? Of course not.
But like the stock market, the long-term is what matters
Just like in the stock market, eventually markets recover and trend upwards. Just like in life, there are good moments and then there are bad ones. Sometimes, horrible ones.
Personally, my life has felt just like the stock market. My upbringing was a rather harsh one, dealt with both grief and sadness. Honestly, I believed for many years this life wasn't for me.
When I was just 16 years old, I lost my mother. In fact, I had to be in the same room with my father at the time (he didn't speak english) to confirm with the doctors to pull the plug. My mother was officially brain dead, and being left on life support wasn't the best course per the doctor. As a young teen, it was traumatizing to experience.
Then in less than 2 years afterwards, my dad passed away due to a car accident. I was devastated, to say the least. I even had to prepare the funeral obligations and work with lawyers myself. I was just 18 years old. And it hit dawned on me – I was an orphan.
Up until at this point in my life, I never envisioned a world where both parents would be gone. But when my dad passed, I had a sudden revelation. I needed to grow up – and fast.
Making your choices and living by them
Despite what happened in my and my family's life, I knew I had to continue moving forward. After my dad passed away during my freshmen year at UMass, I made a decision. I would succeed in college, that I would make my decisions and live and die by them.
This is the same code I live by to this day. Is it challenging? Of course. Can it be tiring? All the time. But even with everything that has happened, I believe we can survive and move forward. It's not easy. In fact, I had to seek therapy at times because of the dark places my mind races to.
But like the stock market, just know that these things will pass. But also that we should take the time to be sad, to cry, to vent and let out our grievances. It's part of human nature.
Although I try my best to stay strong and determined, I have my weaknesses too. I have days where I need to vent and just lay in bed all day. But this is normal.
We will all get there. And requesting support and reaching out to friends and family is sometimes necessary and healthy. We can't all do it alone.
Focus on the long term
Just like the stock market, the focus is on the long-term. Day to day, week to week, life will be erratic, crazy and rage-inducing. Trust me, it will.
But just like the stock market, we'll progress, trend higher, and reach and attain new goals.
Stay happy, stay proud, stay strong. Best wishes!