**Note: When I made this originally, it was made using Clickup 1.0. So much has changed since, and for the better. I've updated the images below based on 2.0. Enjoy!
With today's standards of getting more done, it's become crazy in this day and age of staying organized and completing everything that needs be completed.
Get work done, clean the dishes, take care of the kids, meet with friends, call the plumber…the list goes on and on and on.
So what is the best way to manage everything that goes on?
An organization tool, that's how.
Using ClickUp to manage tasks, goals and projects
I use a tool called ClickUp, a productivity platform that can virtually handle everything related to projects, tasks, productivity, etc.
I love this tool in how it's made a huge difference in both my life and productivity. The saying goes, "You can't manage what you can't measure".
By using ClickUp and using the GTD (getting things done) framework, I can see everything that needs to get done in my personal, professional and family life.
This is hugely important to me because I don't want to ever slip the ball on my goals (e.g. learning Chinese!)
How I use Clickup today
Let me first add, there is no right or wrong way to use ClickUp or any productivity tool — it comes down to your own system and habits.
No tool can overcome those, so if you're facing issues of staying consistent, try to start with a habit and doing that habit for at least one month.
Okay, so how do I have my ClickUp software set up?
Spaces
First, I set up my spaces, which are individual pieces of my life: personal, professional, family.
I keep each of them as separate as possible, otherwise, it becomes overwhelming. See below: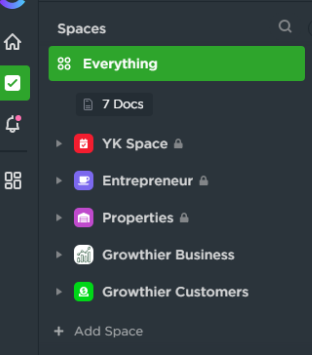 As you can see, here are my spaces as they're set up today. I prefer this set up as I can laser focus in on areas that require my attention.
Projects & Lists
Next, once the spaces are created its time to create projects and lists specific to your spaces. Think of them as very specific goals within your space, e.g. your job.
Here is an example of how I set up my personal space: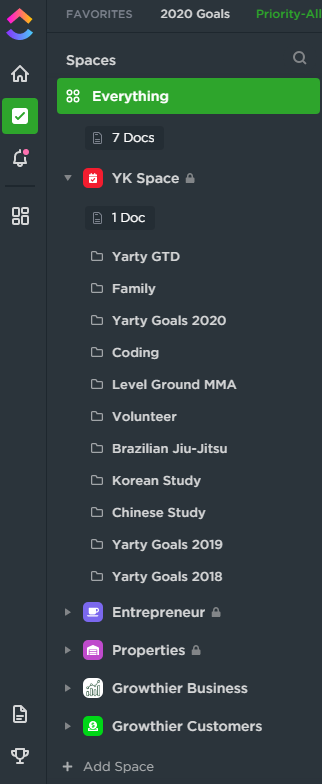 As you can see, I have a project labeled "Yarty GTD". It encompasses all the stuff I need to get done, some of which are personal and goal-oriented.
This helps me to stay focused so that I never (or least try to never) forget the important stuff (e.g. my wife ?).
Tasks
Like any project management system, you'll need actual tasks to complete.
For many, we use the traditional pen and paper method. I personally love leveraging software like ClickUp because I can always access my projects and tasks via their web app and mobile app.
Essentially, it's always with me. ?
So, what do tasks look like? Here's a few of mine below: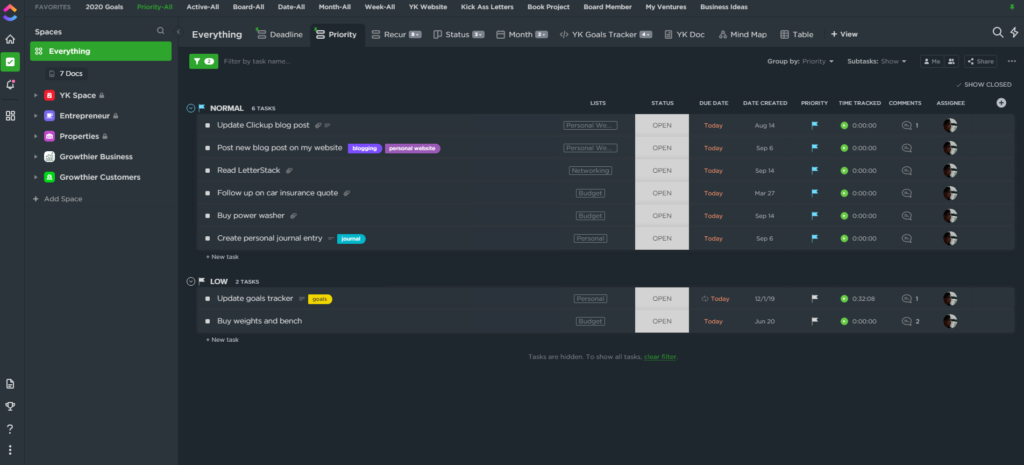 Its super simple to add a task as well. You can create tasks through the large green button in the upper right corner or you can create within your lists.
Another awesome feature of ClickUp's is being able to see which tasks are coming due, what's on hold, etc.
This is great because you can quickly decide which tasks require your immediate attention and which can maybe be pushed off till a later date.
ClickUp's filters function comes in handy for these purposes. I use them every day. Sample below: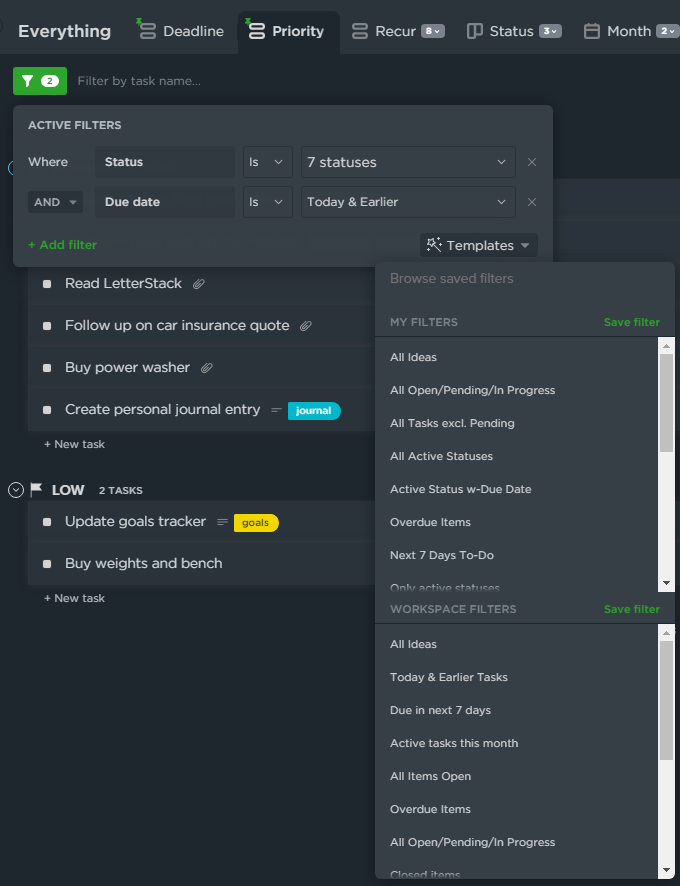 Other awesome features Clickup includes such as goals, reporting, box views
Personally, this is what makes ClickUp so amazing compared to other alternatives I've tried.
The goals, reporting and box views are just simply awesome.
Want to hold yourself accountable to those New Year's goals? Want to ensure never missing an anniversary?
ClickUp's the answer. ?
Here's an example of each below: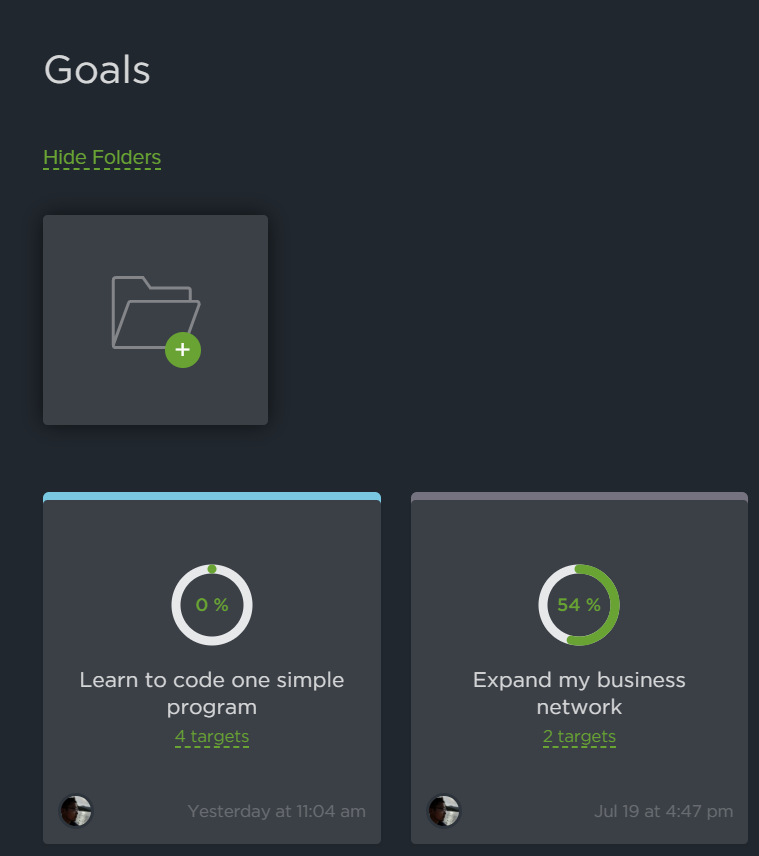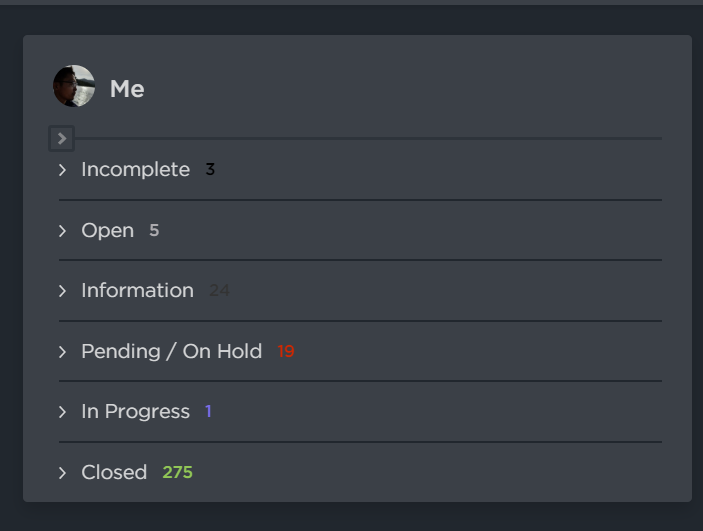 The possibilities are endless, and I use these functions every day to stay on track with my goals, projects and more.
Use ClickUp to accomplish goals and stay organized
With ClickUp, I found myself accomplishing so much more than I ever have prior to using the software.
Being able to capture all my projects, tasks, goals in one place is hugely valuable.
Because everything is sync'd with their web app and phone apps, I have my tasks with me wherever I go.
There are a lot of things I want to accomplish, and by having a system in place like ClickUp, I don't feel anxious or frazzled that I might let something slip.
I've used a number of systems over the years like Trello, Excel, Google Sheets, pen and paper. But none of them come close to ClickUp and their functionality / ease of use.
To anyone looking for a tool to manage their lives or to stay better organized, I highly recommend ClickUp. Because there's a forever free plan, there's no risk in trying it out either.
Feel free to use this link to sign up today. If you have any questions on setting your board up, feel free to reach out to me as well.