The start of my journey
When I quit my job in 2017, I was really lost and unsure where I wanted to go or who I wanted to become.
But one thing was sure – I wanted to do something that I loved and that was going to be on my own terms.
You can read the full story here on why I left my job and turned down an offer with Amazon.
Since then, I've launched two businesses; in the process of writing a memoir; joined many amazing communities like Indie Hackers, CollabX, and No Code Founders to name a few; and currently launching a newsletter with a twist (more to come on this).
However, in order to manage all of this I leverage a set of tools and systems that I love.
Below are my top 5 favorite tools I use to manage my businesses and my life in no particular order.
ClickUp
ClickUp is by far the best tool I've ever used. It's transformed the way I keep track of everything that goes on in my crazy life. That + the GTD framework is a godsend.
Seriously, no other app has come close when it comes to keeping me on track with my tasks, due dates, projects and anniversaries (for the wife ?).
ClickUp has essentially everything you could ask for in a task management / project management tool. Tasks, projects, folders, reporting, goals, docs, you name it and they got it.
Oh, and best of all, it's free!
If you're interested in a more detailed post on how to use and set up ClickUp, you can check out my post here.
Before ClickUp, I tried Trello and despite loving it at the time, it was just too limited (I'm a list view kind of guy). Here's a sample of my dashboard below: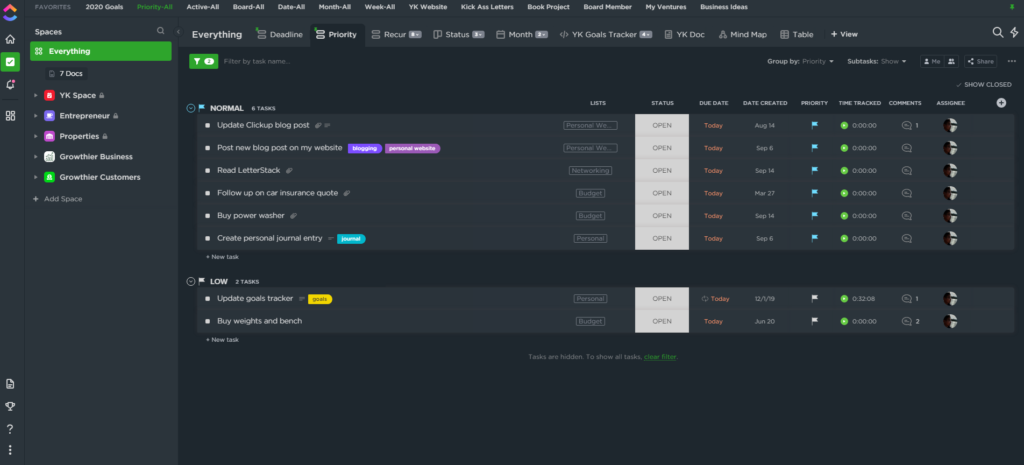 So thank you ClickUp! Highly recommend this tool to manage your business and your life.
Notion
Notion is another awesome tool that I'm getting a better grasp of every day that I use it. And so far, I love it!
It's similar to ClickUp, but it manages more like a document manager/note taker/database tracker.
Think of it as your second brain.
Have bookmarks you want to save? Maybe books you want to reference quotes from? Want to build a Sales CRM?
You can do all of that and more in Notion. Plus, with their unlimited free plan there's no excuse to not try it out.
Here's an example database I created to track my readings and articles:
There's so much you can do in Notion. Definitely recommend checking it out. At worst, you hate it and cancel.
Draw.io
Draw.io is next on the list of my favorite tools.
Coming up in Corporate Finance, workflows and processes were everything. So naturally, my brain works as such.
Entering the world of entrepreneurship as a first-time founder, I needed a simple tool to help me map out workflows and processes to:
track sales pipelines
manage email marketing funnels
determine any possible bottlenecks in service delivery
understand my business systems as a whole
organizational structure
Here's an example sales workflow we have for our business, A4E: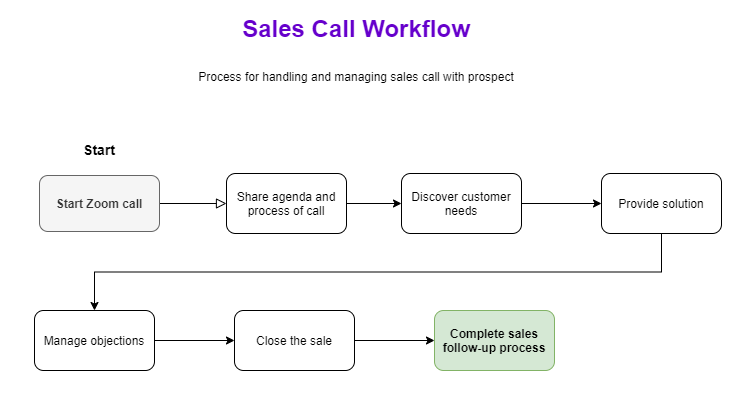 Draw.io has come through time and time again. For a free tool (yes, free ?), it's incredibly powerful what it can do.
Another tool I highly recommend checking out.
Xmind
If you're into mind mapping like me where thoughts and ideas can easily get scattered, check out Xmind.
This tool is incredibly easy to use for mind mapping and is, you guess it, free!
Mind maps are, in a nutshell, a way to visually organize information. Rather than writing information down, you draw it.
Here's an example mind map I created on why I want to pursue entrepreneurship:
I highly recommend checking out Xmind for mind mapping. Amazing tool, simple to use, and a great way to structure yourself.
FutureMe
This is not business related, but I love FutureMe!
When I quit my job in 2017, to be completely honest I was scared. I had no idea if I made the right choice, if I had screwed myself and more.
But when I came across FutureMe – a free tool to write yourself a letter into the future – I knew I needed it.
Fast forward almost 3 years later, I still write letters. I write every quarter and forward it to at least a year later to be received.
It has been incredibly powerful as a tool. I get to be brutally honest with myself, what I'm proud of, my failures, my family and more.
Here's a letter I wrote to myself one year before my son was born:
It's powerful to see these letters when they arrive, and it reminds me why I do what I do everyday.
Give it a try – maybe it'll help you too.
Final Thoughts
So there you have it – my top 5 favorite tools.
These are the 5 tools I use every day or as frequently as possible (FutureMe is every quarter).
These tools help me improve my well-being, develop my business skills, be a better parent/husband, and so much more.
I honestly don't know if I would have even made it this far without these tools. I'm really thankful tools like these exist and can only hope more people see them.
If you have the time and are willing to share, let me know what your favorite tools are. Agree or disagree with my list? Let me know!
Till next time!